Lake Tahoe, CA 
(August, 24th 2010) In windy, cold and over-cast conditions, paddlers at the 2010 
Ta-Hoe Nalu
 SUP event still took to the water. As the weather service predicted, a summer storm brewed on the lake resulting in consistent 25 MPH wind gusts. The event coordinators decided that the Elite SUP race would be run in a similar fashion to the world renowned 
Battle of the Paddle 
event. Athletes participating in the elite event were required to paddle .5 miles straight upwind, turn 180 degrees on the Quiksilver buoy, and surf their way back to the beach for a 100 yard beach run. This course was completed four times. As one of the premiere paddling events at Lake Tahoe, Vertra's Paddlesports Team performed top notch! Vertra's own Danny Ching paddled to an impressive and comfortable 1
st
 place finish in the men's elite SUP race taking home 2500$. In his normal fashion Ching got out to an early lead, and built the gap on the rest of the field on each turn. "I just went out hard, and tried to hold on," commented Ching. Danny is considered by his peers as being one of the sports best and is second to none in paddling in all types of weather conditions. This weekends 25 MPH wind gusts proved to be no different as he powered his way up wind, and used his surfing knowledge from years of paddling the OC1 to build a sizable lead on the rest of the competitors.
The young sixteen-year-old Matt Becker battled his way in the top of the pack throughout the entire race. "It was tough to push it up wind," commented Becker. Matt who just returned back to the States after a SUP surf expedition in Colombia found the best parks of the race surfing the .5 mile downwind leg of the race. "It was a great event today, a good starting point as I prepare for the Hennessey's International Race and Battle of the Paddle in a few months."
---
This is the new
Danny Ching signatre fin. 
 We offer this fin in Hexcore and Solid Glass.
We will be showing this and our full line of fins at the Sacred Craft Show this weekend booth#613
HONOLULU – (Sunday, June 13, 2010)
 — Stand-up paddling (SUP) came full circle back to its home of Waikiki, Hawaii, this weekend, surpassing every conceivable expectation with the ultimate combination of sport and lifestyle. Over 600 paddlers from around the world gathered for the inaugural Rainbow Sandals Gerry Lopez Battle of the Paddle Hawaii, presented by Quiksilver Waterman Collection, and thousands turned out to watch. When all was said and done, everyone had a story to tell. The turquoise waters of Waikiki, and surreal backdrop of Diamond Head, were reminders of a time long ago, when the upright figure of Duke Kahanamoku riding a board first captured imaginations. But it was Californian Danny Ching (Redondo Beach), 27, who captivated the crowd this time around, making a clean sweep of the 5-mile Elite Battle and the 10-mile Downwinder.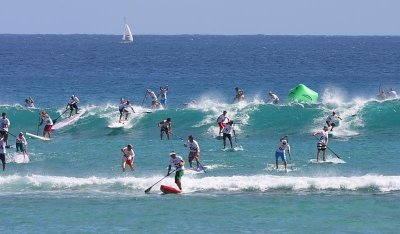 Above: Elite Race Excitement
Photo: Pat Huber/Rainbow Sandals In Saturday's Elite race, Ching was embroiled in a 5-mile battle royale with dark horse Australian paddler Travis Grant (Gold Coast). Punctuated by 19 buoy turns and two 75-yard beach sprints, their race ended in a sprint for the shoreline that left them separated by just 13 seconds after close to an hour and a half of dueling. He then overcame Sunday morning's fatigue to go on and win the 10-mile distance race. "I didn't expect that at all," said Ching. "I was hoping to win one of the days but luckily it panned out for me. I definitely felt fatigued (in the distance race). But once I got out into the surf I was able to build a bit of a gap. I was figuring that would hold them off at the end because if you raced (the Elite race) you were going to have a hard time making the final push the last two miles. "Sparky's Rainbow Sandal races are the best," said Ching. "He puts up the biggest prize purse, the best competitors and the biggest event. Everything about it is amazing." Ching crossed the Elite race line in one hour, 22 minutes and 42 seconds to take win $5,000. He completed the 10-mile downwind race in 1 hour and 26 minutes for an added $1,100.
see full article
---
Ever wonder how your boards would work if you tried some different fins?you'd be surprised at how you can customize your craft with the right fins.
True Ames
offers a variety of surfboard fins ranging from shortboards to longboards, and Stand Up Paddle ( SUP fins ) We offer a full selection of system fins: FCS compatible and Futures Compatible
---
A Thursday afternoon surf check at Rincon from the air. 
---
Thanks to all who stopped by the Surf Expo booth to check out our fins. Here is a photo of the booth setup. Looks like the Stand Up Paddle boards and accessories are a hit this season and True Ames is gearing up to innovate and produce the highest quality fins for your SUP.  Look for the latest in SUP quad fin setup this year, along with shallow water touring fins and more.  For more info on the best surf fins, visit: 
trueames.com
---
[caption id="attachment_276" align="alignleft" width="405" caption="Check out True Ames Booth #331 at Surf Expo 2010"]
[/caption]
JANUARY 14-16, 2010
Thursday 9-6 Friday 9-6 Saturday 9-5
SEPTEMBER 10-12, 2010 Orange County Convention Center Orlando, Florida
-South Concourse
---
SUP Shallow Water / Touring ( SWT )
  [caption id="attachment_195" align="alignleft" width="425" caption="Stand Up Paddle - Shallow water fin"]
[/caption]  
These fins were designed to be used primarily as a single center fin.  #1 Best for areas that have shallow water and or any kind of floating grass/kelp. Effortlessly paddle through thick mats of grass. Transition the shallows of your beach without hitting bottom. Great near shore touring ability.  #2 Paddle a course with less effort due to excellent tracking from this design. Glide is enhanced so less side-to-side paddle exchanging is needed. A thin foil section along with a surface piercing leading edge makes this fin fast on all angles. You will find this design to be faster, with less drag than the fin that came stock with your board.  A great upgrade fin that has many uses. The SWT is a must have!!
Prices Start at $61.00
---
[youtube=http://www.youtube.com/watch?v=E3u8mXGdOQo&feature=related] Amidst his wind generators, blue ocean boats, and camera housings, George Greenough had enough energy to revolutionize fin design. A seed of the revolution, the 4-A has a narrow, flexible tip that enhances maneuverability and a flared base for increased stability and drive -- an ideal combination for the point surf George fancied. Check out our selection of
George Greenough
surf fins.
| | | |
| --- | --- | --- |
| Greenough 4C | Greenough 4A | Greenough 4A - red stripe |
---